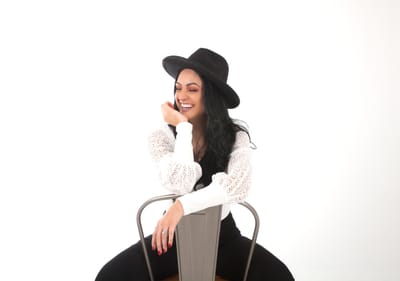 With over 15 years' experience performing, singer/songwriter Fae was just a tiny tot when she first started dazzling audiences with her natural flare, vibrant personality and stage presence.
Her versatile and powerful vocal abilities have captivated thousands of crowds over the years and in this time she has sung for international audiences, celebrity parties, prestigious brands and worked with a host of top recording artists and producers. Fae, who has been singing her heart out since the age of six, makes a real connection with the audience and soon gets them engrossed in the music and in the party spirit.
Growing up in the beautiful County of Kent, Fae lived with her Mother Ann. The house was a musical house, usually playing music from the 50's, 60's, 70's and 80's in the kitchen on tape or vinyl. This inspired Fae to learn and sing all different music genres at a very young age and even start writing songs. Fae just loved to sing and would usually sing around the around the house along to the likes of Dusty Springfield, ABBA, The Beatles, Cilla Black and Celine Dion. It was then that Ann noticed something very special in her daughter and encouraged Fae to sing more.
By the time Fae was 12, she had already performed all over the UK and Spain, appeared on BBC Radio Kent's The Pat Marsh show showcasing her songs, performed at celebrity parties, weddings, festivals, theatres, pubs and clubs and won a number of singing competitions. It was one of these competitions that caught the eye of management company 'JAG MUSIC' Fae was managed by JAG for a number years, working with top music producers, songwriters and choreographers, with 12 backing dancers behind her, creating her style and music genre. Due to Fae's clear passion for singing and dancing, JAG MUSIC expanded to a Dance Academy and Fae and the girls would work on dance routines for Fae's shows and music videos and they continued to perform all over the UK.
In 2005 At 16, Fae worked with DJ'S and Producers 'The Soul Seekerz' (Dannii Minogue - Perfection) on a track called 'Promised the moon' this appeared on BBC Radio 1, The Judge Jules show. Then in 2012, Fae worked with DK Management (Jessie J's previous management company) on a song called 'Bang on the door' produced by Sky Adams & DJ Antoine along with a music video directed by 'Halo Jones' Fae also featured as a dancer in Experiment's music video ft Zena - 'Number 1'.
In 2015 Fae joined a 5 piece cover band called 'The FM Band' and the group have performed all over the country ever since, with previous clients such as Mercedes-Benz and the NHS. Fae really makes an emotional connection with the audience that fuels her passion to sing and play music that can transform any occasion into a memorable one.
More recently Fae has put her creativity back into motion and started writing her first Album, Fae teamed up with classically trained pianist and great friend Amy Startup, together they have a real emotional connection that creates music that really connects with the listener. 'I'm Never Gonna Change' the first song on the future album, was released on all music platforms on 13th March 2020. This song is very close to Fae's heart and explains the daily struggles with anxiety that Fae herself has faced over the years which many listeners can relate to. The song sends a message that, regardless of what you or anyone else think, you are who you are, no one is perfect and that's ok, it's ok to not to be ok.
So be it an intimate affair with just her voice and a Ukulele or Piano, or a larger event using backing tracks, or even with a full band behind her. Whatever the show, event or occasion, be sure her incredible voice and wealth of live experience will bring an energy and captivating performance that will blow you away.